OAR CME History
The OAR Values the Importance of Continuing Medical Education
Since the Ontario Association of Radiologists (OAR) began its CME program in 2007, more than 7,400 radiologists, technologists and related specialists from throughout Ontario and across Canada, have attended 56 OAR CME events.
The OAR brings in keynote speakers who are the best in their field and promotes Canadian academia to develop practical CME programming for radiologists, technologists and related specialists.
Over the past five years, the OAR has evolved its programming to include a mix of didactic and interactive programming.  It also became apparent over the past few years that more interaction was desired/needed between participants and lecturers and the OAR resolved to find a way to bring interaction into CME programming that would at least in part serve the needs of the majority versus the few who could take advantage of limited workstation programming.  Use of the Audience Response System Technology, first introduced in 2008, was added and enhanced to meet the needs of large groups of participants, as it would provide radiologists and technologists with the opportunity to test themselves anonymously against the rest of the course participants and also access a hard copy of their results.
Introduction of the live webcast was the next evolution in OAR CME programming.  This was introduced with the Breast MRI program held on June 2, 2012 and has continued through following courses.  Each webcast provided some interactivity in that participants had the ability to email questions, which were relayed to the course director and answered during appropriate times during the CME.   During the fall of 2013, the OAR Board approved complimentary live webcast registration to all Diagnostic Imaging residents and fellows world-wide.
While the majority of participants come from Ontario, increasing numbers now participate from across Canada and around the globe since the addition of live webcasting of CME courses.  Radiologists from as far away as Europe, the Middle East, India and South America have participated in a variety of webcasts along with dozens of others from States without the U.S. and most Canadian provinces.
Invest  In Your Career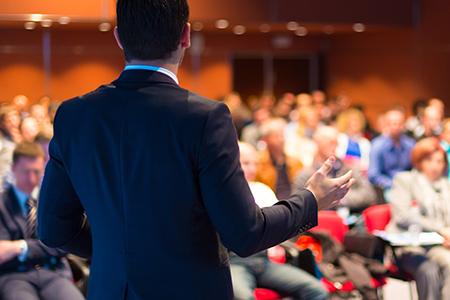 RADIOLOGIST CME
CME programs are constantly evolving to reflect the developments in the world of radiology
All programs incorporate new information, refinements in curriculum and changes to clinical practice guidelines in collaboration with multi-disciplinary medical professionals and associations
Keynote speakers who are the best in their field promote Canadian academia while developing practical CME programing for radiologists
OAR is committed to offering preferential pricing for CME programming to its members
Courses have evolved its programming to include a mix of didactic and interactive programming
Live Webcast is the next evolution of OAR CME Programing

 

TECHNOLOGIST CME
Ontario radiologists recognize the vital partnership between radiologists and technologists. They want and need their technologists to be the best of any jurisdiction, and in many modalities
OAR CME programming is focused on acknowledging and understanding this vital partnership and promoting the enhanced joint-education of both whenever possible and appropriate.
Our goal has been to deliver high quality; low-cost programming that will meet your needs and keep you coming back for more.
For 2015-2016 the OAR is working on a series of specialized live and web-based CME programs exclusively for technologists
The development of practical, hands on and review programs have been developed to test one's knowledge.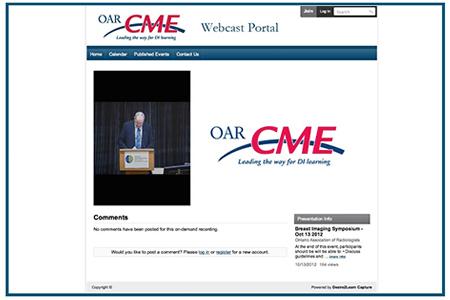 CME WEBCASTING
Introduction of live webcast is the latest evolution of OAR CME programming
All programs with exception of workstation courses will be offered as live webcasts
Participants have the ability to email questions and answer questions though the ADT application
The webcast is cost-saving option for participants not wanting the added expense of travelling to Toronto
All CMEs are recorded and archived following the event
Enjoy courses from the comfort of your own home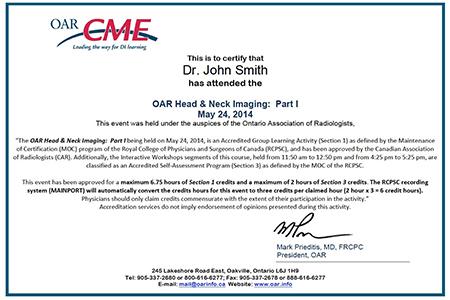 BENEFITS OF OAR CME PROGRAMMING
The OAR brings in keynote speakers who are the best in their field and promotes Canadian academia to develop practical CME programming for radiologists, technologists and related specialists
Our goal is to support and enable course directors to plan and implement high quality courses using the latest teaching methodologies to include a mix of didactic and interactive programming to health care professionals across Ontario and the Country
The OAR's CME program has a long-standing reputation as a leader in providing inovative and current education programs  
Since the OAR began its CME program in 2007, more than 8,000 radiologists, technologists and related specialists from throughout Ontario and across Canada, have attended 42 OAR CME events