Radiology Wait Times
Wait Times Affect Patient Care In Ontario 
In 2004, the average wait time for a patient to obtain a CT Scan appointment was between 8-12 months and 12-18 months for an MRI scan.  From a medical perspective, waiting that long made undermined the original concern of the referring physician as any disease would have become significantly worse and patients' health was seriously compromised.  Today, wait lists in Ontario are much shorter due to a significant increase in the number of CT and MRI scanners approved to permit more rapid access.  Scanners that used to operate at most 8 hours a day, now operate 16 to 24 hours daily making them the most efficiently used pieces of diagnostic equipment in the world.  The Ontario government following the issuance of several reports by the OAR announced the first Wait Time Initiative in Canada with additional funding to operate these scanners for longer hours.
Wait Times Overview
In 2003 there were only 5 MRI scanners in Ontario, today there are over 125 operating scanners
There are approximately 200 CT scanners serving an Ontario population of over 13 million Ontario patients
In 2001, Canada had fewer CT and MRI scanners per million population than every industrialised country in the world
"Dramatic reduction and measurable improvement in patient care came about because the Ontario Ministry of Health listened to the advice of Ontario radiologist experts about how to effect change and provided the necessary tools so that better care was delivered sooner and locally."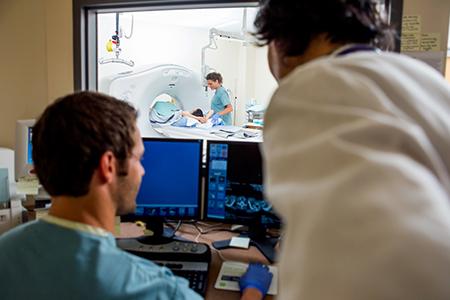 "Wait Times are improving since the 2004 Health Accord, but Canada can do much better. Less than 10 years ago CT wait lists were 8-12 months long versus today's average of 35 days, and in many cases much less.  MRI waits used to be 12-18 months and are now 63 days on average." - Wait Time Alliance 2014 Report Card
Wait Time Level CT & MRI Scans
As of October 2015, the Ontario Ministry of Health reported that on average CT and MRI wait lists for outpatients were on average in excess of the 28 day maximum recommended 90th percentile wait time
MRI wait times are consistently much longer than CT due to the fewer pieces of available MRI equipment across the province
Shortest average CT scanner wait times are approximately 15 days and the longest are about 70 days
Shortest average MRI scanner wait times are approximately 35 days and the longest are about 140 days
"Strong radiologist and hospital management support at the local level and the tremendous level of financial support from communities have made the expansion of CT and MRI one of the understated success stories in our health care system."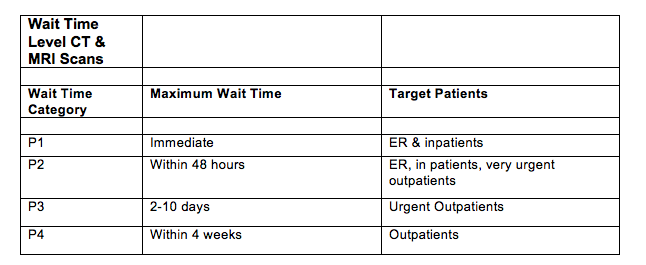 OAR's Role in Raising the Issue of CT & MRI Wait Lists
In the years prior to and immediately following 2000, the OAR produced a series of reports addressing both the lack of adequate CT and MRI scanner equipment resources to meet patient care needs and the unacceptably long wait times that patients had to endure to get a potentially life saving diagnosis.  The OAR published several reports that drew the government's attention to this unattended area of patient care.

Ontario Ministry of Health Wait Time Links for CT & MRI Scans
Patients can obtain access to the Ontario Ministry of Health's wait list times for CT and MRI scans at their area hospital(s) by clicking HERE.
Physicians can see a more detailed view of wait times for inpatients and outpatients by hospital or LHIN by clicking HERE. 
OAR Reports
1994 Magnetic Resonance Imaging (MRI) Position Paper
1994 MRI Report for the MOH Business Case Approval Process
2002 Diagnostic Imaging Access Report
2002 The Secret Behind Waiting Lists
2002 CT/MRI Needs Assessment Report
2003 Diagnostic Imaging Access Report Card
2004 Overview of CT & MRI Services in Ontario