Free STATdx Access For OAR Members
Free STATdx Access For OAR Members
The OAR Board has approved the purchase of STATdx for use by OAR members.   The new service was launched in late May 2015 as a major value-added service for Ontario OAR members. The OAR is the first radiologist association in the world to offer this powerful diagnostic decision support tool to its members and is intended as another element of the OAR's mandate to deliver quality management tools to support your patient care responsibilities.
Radiologists are very familiar with STATdx and recognise its leadership role in providing instant access to more than 200,000 radiological images; 20,000 patient cases; 4,000 diagnoses; 1,300 expert differential diagnoses; 40,000 live references; and 300 imaging anatomy modules covering every area of radiology. This powerful tool comes with RADSearch (a means to search alternate information online accessing key radiology journals, and several other media) and RADTools (a compilation of common tools used by radiologists including tables, protocol information and calculators).
As a part of your membership, OAR now gives you access to this powerful online diagnostic decision support tool to assist radiologists to:
Quick access to pertinent knowledge from radiologist experts on every topic
Immediate assistance to research information on complex cases
Provide value-added assistance to your reports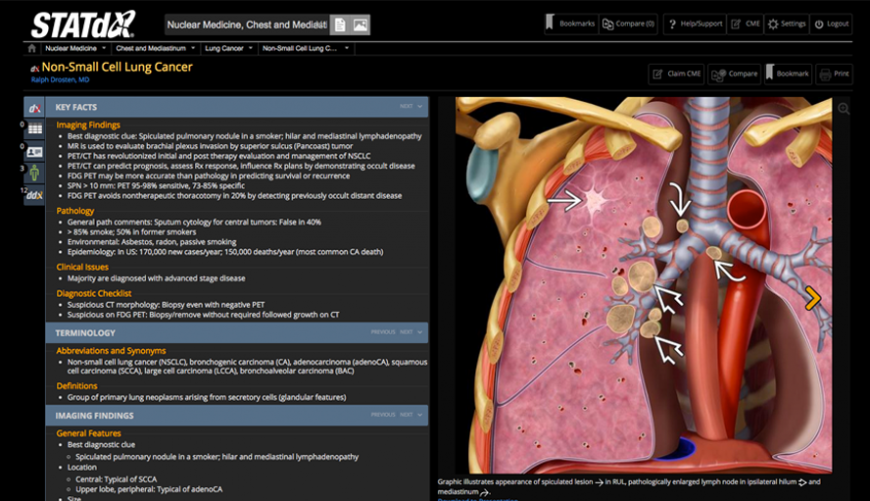 Access to the new service will be via the OAR website www.oarinfo.ca Click on the STATdx icon, which will take you to the secure STATdx portal. The system is designed to accept only those radiologists who have paid their 2015 OAR membership fees. You will receive STATdx log-in information via a separate email. Follow the instructions carefully to set-up and customize your account. If you are interested in learning more about STATdx, visit the features section of the STATdx website at www.statdx.com/features
If you are not yet an OAR member, use this occasion to become one. Click the following link to complete the OAR membership form so that you can have access when this is formally launched early next week.
https://cme.oarinfo.ca/cme/buy_oar_membership.php
The OAR Board felt it was an important and useful service to trial the availability of STATdx for OAR members. Depending on usage and the success of this implementation, more licences will be added to meet demand. The OAR is also looking at other value-added diagnostic services to assist our members. If you have suggestions, please contact the OAR office.