In Memoriam Jason Ashley MD, FRCPC
In Memoriam Jason Ashley MD, FRCPC
May 5, 2017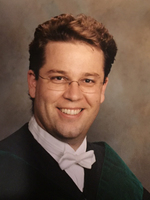 Ontario radiologists lost a dedicated colleague in northern Ontario on May 2, 2017 when Dr. Jason Ashley, age 43, passed at Maison McCulloch Hospice in Sudbury, following a courageous battle with cancer.
A native of Smooth Rock Falls, Jason first went to Sudbury to study medicine at Laurentian University, where he met his wife Michelle.   In 2003 the couple moved to London, Ontario where Jason completed his residency training at Western University.   The couple and their three children, Elizabeth, Paul and Everest returned to Sudbury in 2008 and Dr. Ashley joined the staff at the Sudbury Regional Hospital.
Dr. Ashley was the Diagnostic Imaging Chief at Health Science North for a number of years until his retirement in November 2015 due to illness.  Colleagues described him as "larger than life" with an unparalleled "zest for life" – a skilled radiologist and angiographer who was respected and loved by everyone in his department and anyone who had the pleasure of meeting him.
Outside of work, he was a proud Mason, a formula 1 and football fan, a curler and also a connoisseur of fine cigars, scotch and jazz.
Celebration of Jason's Life 
will be held at the Marguerite and Gerry Lougheed Community Center, 
328 Albert Street, Sudbury.
Thursday, May 11th, 2017 beginning at 5:00 P.M.
A memorial service will be held at 7:00 P.M. under the auspices of the Algonquin Lodge #536 AF&AM with words of remembrance.
A reception will follow downstairs at the center.