STATdx CME: Newest OAR Member Benefit
OAR Membership Brings More Value. Now Earn CME Credits with our New STATdx CME Offering
As a paid OAR member you now have unlimited access to STATdx, the industry-leading online diagnostic decision support solution. Now as a new value-added part of your membership, you will be able to earn CME credits for the queries you perform in STATdx. The OAR Board has approved the newly offered STATdx CME as another OAR membership value in addition to  STATdx and e-Anatomy.  
The OAR is the only radiology association that offers its members STATdx, STATdx CME and e-Anatomy.  Together they have a value of $1500.  Stay current with the changing radiology landscape and benefit professionally from STATdx CME. Use of STATdx by OAR members continues to grow in leap and bounds.  The OAR works to address the needs of its members and to ensure radiology's critical position in a rapidly changing health care environment.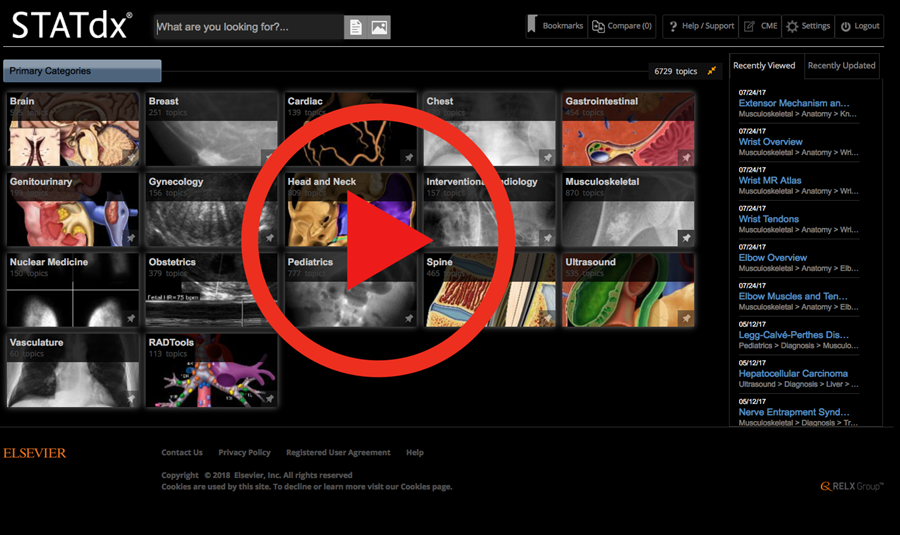 Earning CME Credits in STATdx is Easy: How It Works
Earn CME credit while making a confident diagnosis:
Integrated Solution — Easily capture and track CME credit for queries completed in STATdx over the course of your workday.
Trusted Content — Rely on constantly updated diagnostic information from Elsevier's leading radiology experts.
Professional Development — Uphold your commitment to continually growing as a physician by immersing yourself in topics relevant to your clinical practice.
Search: Login to your STATdx account at https://app.statdx.com. Click the CME button in the top right-hand toolbar. Use the STATdx search box to find information on a diagnosis
Earn: Earn and claim Royal College Category 1 Credits with ease. You can claim credits in the  'CME' or 'Claim CME' section of your STATdx profile.
Claim: Select the query you would like to claim for credit. Complete the short form describing the application of your findings and click 'Submit for Credit'.
Print: Click the 'Print Certificate' button to print out your point of care CME certificate.